Receive Award Winning First Aid Training Here At Daisy First Aid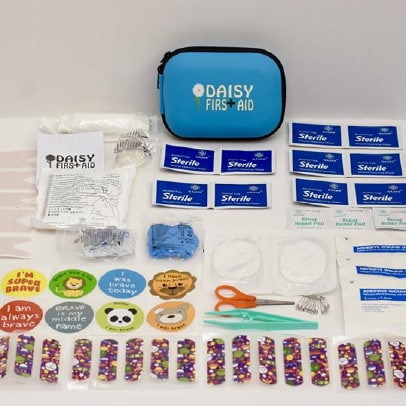 Daisy First Aid's First Aid kit is specifically designed for children and babies to cover those oopsy daisy moments!
This 70 piece kit comes in a great little carry case that is ideal for use at home, in the car or to take with you in the nappy bag/back pack for day trips.
As a family we would do anything to protect our children.
Parents will go to great lengths just to ensure that their children are always happy and comfortable. That's why it's so heart-breaking to see a child ill or injured.
If a child had an accident or fell ill would you know what to do? We don't want you to be frightened or to panic.
Daisy First Aid will show you how to stay calm and confidently deal with a medical emergency in our comprehensive first aid courses
Daisy First Aid passionately believe that every family should have paediatric first aid training to help protect their children and potentially save their life. That's why we offer a fun and engaging paediatric first aid course specifically tailored for parents and child carers. Here, we'll show you the most important skills in dealing with the most common accidents among children.
Daisy First Aid provides family first aid training in the comfort of your own home or in designated venues throughout the UK. Within two hours, you'll be welcomed into the world of first aid without even leaving the comforts of your own home. We'll teach all the basics, including the most effective ways to deal with injuries, fractures, meningitis, and other childhood conditions. You won't find 2 hour family first aid courses in London that are as fun and comprehensive as ours.
Hosting a Daisy First Aid class at home means you can learn with friends and family in a relaxed environment, on a date and time that suits you. Babies are very welcome.
Daisy First Aid passionately believe that first aid should be taught in schools.
We provide fun interactive classes for children from 7-18 years old.
We even run classes just for the teachers too.
For those working in the childcare industry we provide Ofsted compliant paediatric first aid quailfications.
Daisy First Aid is in the business of providing nothing but the best first aid courses in London and the UK. All our trainers and assessors have been trained and assessed to meet the requirements of the Health & Safety Executive, assuring you that your training is in expert hands.
Ready to start your first aid training? Contactus to find a class near you!